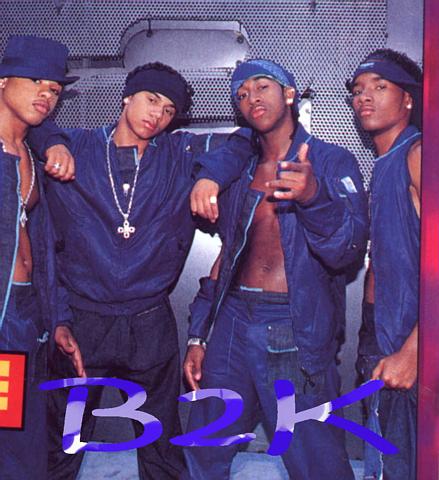 Did You Know That...
All the members of B2K are single
J-Boog's favorite ice cream topping in strawberry syrup
Lil Fizz in a junior in high school
J-Boog loves to draw
Raz-B admits that if he wasnt a performer, than he would be involved in sports
The group enjoys doing magazine interviews
Omarion's favorite sports team is L.A. Lakers
Raz-B's favorite ice creams are strawberry, peaches and cream
Raz B is not from L.A., Raz B is from Cleveland
Lil fizz and J-Boog wrote the rap for "Uh Huh"
Lil Fizz is black, white and indian?
B2K have a female group coming out called G4?
B2K was in Lil Bow Bow's "Ghetto Girls" video?
Raz-b bought his momma a house and a car; Lil Fizz bought his momma a car; J-Boog bought his momma a car; Omarion bought his momma a car.