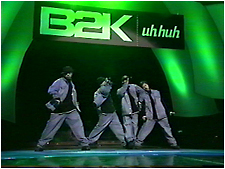 B2K garnered mainstream recognition long before the release of their self-titled debut CD. The guys spent two and a half months in the summer of 2001 opening for Lil' Bow Wow and later appeared in the video for his recent hit "Ghetto Girls". Critics and fans alike agree - B2K had young concert fans going wild, but their energetic stage presence also brought back some great memories to older audiences, evoking the spirit of the Jackson 5 and New Edition.
These busy guys have also been fitting interviews, radio station visits, autograph signing sessions, business meetings, home schooling and TV guest spots into their hectic schedule. During the past few months, the boys have appeared on several teen-magazine covers, and have made appearances on the "Jenny Jones Show," "TEENick," BET's "106 and Park," MTV's "Mandy," "Soul Train," and the Fox Family Channel's "Weekly Video Countdown."
B2K, which consists of J-Boog (15), Raz-B (15), Lil' Fizz (15), and Omarion (16), were discovered last year in Los Angeles at an Epic Records Showcase for new talent. The guys wowed Epic executives with their surprisingly well developed harmonies and complex dance routines. Aside from these talents, lead singer Omarion also has assembled an impressive acting resume, having appeared in TV commercials for Kellogs and McDonalds.
Parents are singing the praises of B2K too. As Raz-B explains, "We feel a strong obligation to keep our lyrics clean and to set an example for the fans. Parents seem to appreciate that. You can 'keep it real'?we have no problems with that. We want to be the kind of group the whole family can listen to and no one has to tell the younger kids to get out of the room. We love school too, and that comes across in our lyrics as a positive message."
The smooth and seductive debut single "Uh Huh," produced by C. "Tricky" Stewart (Blu Cantrell, Usher), introduces the CD and showcases spicy "boy meets girl" verses from each B2K member. The accompanying music video for "Uh Huh," produced by Hype Williams, offers the perfect visual compliment to the song's flashy production, and gives B2K a chance to perform some of their most exuberant dance moves. "Last Boyfriend" features a lovelorn Omarion's terse vocals about a girl who seems too afraid to get involved too deeply because of sour feelings from her last relationship. Produced by perennial hit-maker Jermaine Dupri, it's got the Atlanta modern hip-hop soul flavor. The bulk of the album's productions was handled by Platinum Status, but includes contributions from Beau Dozier, Marc Dovert, and Max Gousse.
Sure to be a single contender "B2K is Hot," proclaims that the boys are on the scene and here to inspire youngsters into a party spirit. "Hey Little Lady," another production from Platinum Status, features heavenly multi-layered harmonies, but this time, the boys talk about meeting and impressing an around-the-way girl.
"Come On" is a love-affair-gone-wrong jam reminiscent of New Edition during their prime. "Here We Go" is a hyper-energetic cut that blatantly tells a romantic hopeful hangin' at a bus stop that "I'm really looking at your friend." "Baby Girl," produced by The Characters (Charles Farrar and Troy Taylor), is a classic "ladies night" record pledging undying love in the tradition of the great late '60s Stevie Wonder hits.
Perhaps the key to the group's ambition at such a young age is not
just their talent- it's also the right blend of personalities between these eleventh and twelfth graders. Lil' Fizz says slightly tongue-in-cheek, "It's because we're all so different. Razz-B is a Gemini, which says it all. He is like two people in one. I am the laid back boy next door. J-Boog is the businessman who knows how to sell us. Omarion has a casual personality and he likes to be wherever there are chickies and checkers."
Yes, B2K puts their hearts on the line with their music...and make the ladies sigh. But most importantly, B2K crosses all color, age, and musical barriers--indeed, these boys are determined to win over fans of all kinds. They do their thing with flair, style, and a genuine love for both their fans and their music. "We love interacting with our fans," says J-Boog. "We encourage them to reach out and contact us at B2Klovesyou.com!"